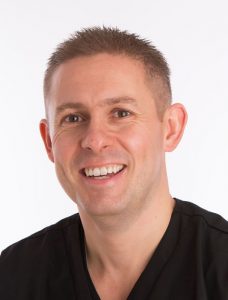 Practice Principal: Dr Ross Cutts
BDS (Lond) Dip Imp Dent RCS (Eng)
GDC No.: 78162

Ross graduated from Guy's Hospital, London in 2000. He is a dentist with Special Interests in Implant Dentistry and Advanced Restorative Procedures. He has placed over 2,000 implants in the last 10 years.
He is a Fellow of the International Team for Implantology (ITI) – and is the Study Club Co-Ordinator for the UK and Ireland which is an extremely prestigious appointment. Ross is also a clinical mentor and registered speaker for this Worldwide Organisation.
Ross has attended extensive Higher Education across the UK, Europe and North America from the world leaders in Implant Dentistry. Ross has also been awarded the highly-regarded Diploma in Implant Dentistry from the Royal College of Surgeons, London – one of few to have gained this qualification.
He works closely with Straumann implant system – however, he has extensive experience with many other implant systems – ensuring that he provides care scientifically proven to be long lasting for his patient's best interests.
He regularly holds implant courses and lectures nationwide and globally on a variety of topics at different levels, however, he has a particular interest in Aesthetic Implant Dentistry, Digital Dentistry and Complex Bone Grafting procedures.
Ross accepts referrals from colleagues for all levels of complicated treatments at both his Cirencester and Stow-on-the-Wold practices. As well as being a Fellow of the ITI, he is also a member of the Association of Dental Implantology (ADI) and the Royal College of Surgeons (RCS). His commitment to Cosmetic Dentistry maintains his Full Membership of the British Academy of Cosmetic Dentistry (BACD).
To ensure his standards are of the highest possible, he regularly submits his work to scrutiny by his peers – often at national awards.
Ross is the Practice's CQC Registered Manager and his CQC Manager ID No. is 1-153017339
Associate Dentist: Dr Gavin Ho Fat
BDS (Newcastle)
GDC No.: 103457
Gavin is a General Dentist with an interest in restorative, cosmetic and implant dentistry. He has a very calm and approachable character. Gavin has previously worked in Hertfordshire and spent several years in private practice in London.
After graduating from Newcastle University with a Clinical Distinction and winning the Coltene prize for the use of composites (white fillings) in 2006, Gavin continued his professional development attending numerous post graduate lectures and courses.
In 2008, Gavin began his implant training with an 18 month mini-residency in London's Harley Street; further to this, in 2012, he gained a place on the Diploma for Implant Dentistry at the Royal College of Surgeons, completing the course in 2013.
Associate Dentist & Practice Clinical Lead: Dr Mark Burton
BDS Hons (Lond) PG Dip (Primary Dental Care), FID, MSc Dent Imp (Bris)
GDC No.: 251324
Having graduated from Kings College London, Mark worked in practice in Kent before relocating to Gloucestershire in 2015 to join our team at both Cirencester and Stow-on-the-Wold Dental Practices.
Mark has a keen interest in restorative and aesthetic dentistry and is a firm believer in taking a holistic, preventative and patient-centred approach to dental care. He is highly motivated to use the most modern techniques in order to help patients to achieve and maintain healthy mouths as well as to help those that never thought they could have a beautiful smile.
Since graduating, Mark has completed a postgraduate diploma in Primary Dental Care with a primary focus in Periodontology (gum disease) and Endodontics (Root Canal Treatment).
Mark has completed the MSc Implantology Programme at University of Bristol and is now a member of the International Team for Implantology and has gained significant experience in single and multiple implant cases with a variety of grafting needs. He has extensive experience of using Digital Workflow for implant-based and tooth-borne restorations and fixed and removable orthodontic systems.
He has a special interest in Orthodontics and is trained and experienced with a range of fixed and removeable clear orthodontic systems – recently Mark has been asked to contribute as a key opinion leader for the Clear Correct Aligner system. He enjoys combining these with tooth whitening techniques to give patients the straighter, whiter smile that they seek.
Having trained in facial aesthetics, Mark enjoys helping patients enhance their complexion by reducing wrinkles and unsightly lines, or gaining volume which has been lost as part of the natural process of aging. He continues to attend courses from highly regarded clinicians on all aspects of dentistry in order to expand his knowledge.
Away from the practice, Mark is a keen cricketer who plays for local club side Poulton CC.
Associate Dentist: Dr Andrew Isaac
BDS (London) MJDF RCS (Eng)
GDC No: 193172
Andrew graduated from Kings College London in 2010. He completed house officer positions in Restorative Dentistry and Oral Surgery at Guys Hospital, where he started his training in implant dentistry.
Having left London, Andrew has worked at private practices for the last several years whilst continuing his education into implant dentistry. He has completed several implant courses and is a member of the International Team for Implantology.
Andrew has also had advanced training in facial aesthetics to enhance the cosmetic aspect of dental treatment. He has completed several courses to ensure his patients receive a high quality of care and advice on non-surgical aesthetic solutions.
He attends dental courses to ensure his knowledge and treatments are the most up to date, and plans to continue his development into implant dentistry.
Andrew is a keen golfer and a keen oarsman, having represented his country at International and Commonwealth levels.
Dentist: Dr Lynsey Summers
BDS (Bristol)
GDC No: 278051

Originally from Glasgow, Lynsey is a General Dentist who graduated from Bristol University and has since been working locally.
Whilst studying at Bristol, Lynsey undertook a research elective project to evaluate the management of Head and Neck Tumours in Children in which she highlighted the need for further work to be carried out to improve outcomes for children and teenagers affected by cancer.
She is very patient-centred in her approach to Dentistry, is a Member of the International Team for Implantology (ITI) and is dedicated to continuing her professional development.
Outside of work, Lynsey is a keen volleyball player, social event organiser and likes to engage in charitable activities.
Dental Therapist: Natalie Francis
BDS Hons, Cert HE
GDC No.: 258407
Natalie is a Dental Therapist; within this role she is qualified to perform all Hygiene treatment in addition to carrying out fillings and any treatments on children's baby teeth.
She graduated from University of Portsmouth Dental Academy in 2015 with Honours, and was awarded the Dame Margaret Seward Award for 'Dental Hygiene and Therapy Student of the Year'.
Following her graduation, she has carried out further training including Maintenance of Dental Implants and further education in the management of Gum Disease and Tooth Whitening.
Natalie is a keen baker and volunteers as a Dementia friend. She is also currently learning British Sign Language on-line.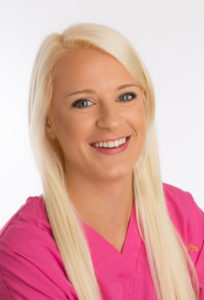 Head Dental Nurse: Emma Woolf
GDC No.: 265064
Emma joined our team in January 2014 as a Trainee Dental Nurse and has now qualified as a Dental Nurse following completion of her course with Cotswold Dental Training.
Previous to settling on a career in dentistry, she has worked in retail and has completed courses in Beauty Therapy at Stroud College and Horse Care and Management at Hartpury College.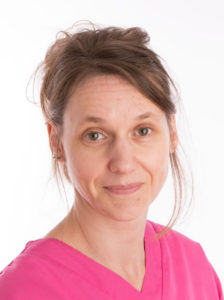 Dental Nurse: Teresa Townsend
GDC No.: 269168
Having started work at Stow-on-the-Wold Dental Practice in August 2015, Teresa passed her Dental Nurse Training programme with Cotswold Dental Training in February 2017.
Teresa spent her early working life in a pharmaceutical and dental environment, but put her career on hold to raise her children.
Since returning to the work place, Teresa enjoys spending her time between both Cirencester and Stow-on-the-Wold Dental Practices and looks forward to continuing her professional development.
Dental Nurse: Mikaela Wheeldon
GDC No.: 264392
Mikaela is local to the area and joined us in January 2016 having started her Dental Nurse training at a Swindon-based practice. She has now qualified as a Dental Nurse following completion of her course with Cotswold Dental Training.
Prior to her move into dentistry, she spent several years in the fitness and leisure industry and is a qualified Life Guard and Level 1 Football Coach.
Dental Nurse:  Lisah Griffin
GDC No.: 280951
Lisah qualified as a Dental Nurse in 2018 and has most recently working in private practice in Cheltenham, prior to joining us to be closer to home.
She has attended secondary school and sixth form college in Cirencester and away from work enjoys cycling, swimming and walking and an interest in fashion and beauty.
Lisah is dedicated to developing her career further and looking forward to expanding her knowledge through continual professional development, especially in the areas of radiography, implant nursing and orthodontics.
Trainee Dental Nurse:  Ellie Shaw
GDC No.: Ellie is currently a Trainee Dental Nurse
Ellie is local to the Cirencester area and having finished her A-levels has been considering what she would like to do next. Having spent some work experience days with us, she has now decided that she would like to pursue a career in Dental Nursing.
She is enrolled on a Dental Nurse Training programme with Cotswold Dental Training that is due to commence in 2018.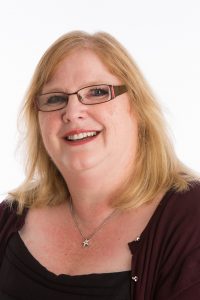 Receptionist: Angela Sealey
Angela is local to the area and has over 20 years experience of working in dentistry; first as a dental nurse having trained in Gloucester, and more recently as a Receptionist for the past 10 years.
She is looking forward to continuing her professional development with the practice and brings a warm welcome to our Reception Desk.
Practice Manager:  Gaynor Cutts, RDN
GDC No.: 148673
Gaynor started her training in 1969 as a Dental Nurse and is still GDC registered.
Prior to relocating to Gloucestershire in 2010, she worked at a private practice in Kent for 18 years; first as a Senior Receptionist; and then as Practice Manager.
Gaynor is Practice Manager of both Cirencester and Stow-on-the-Wold Dental Practices and continues to further her dental knowledge with continual professional development.
Marketing & Referrals Manager: Zoe Innes-Williams
Zoe has been with the practice since it's opening in January 2010 and is local to the area. Prior to joining us she has had 17 years of experience in a variety of PA, administrative, event and marketing management rolls, including 7 years as a Director of a local polo club and 5 years in the Marketing Department at Dyson.
Away from work Zoe enjoys a busy home life with her son Jack and trying to squeeze in the occasional bike ride or gym class.